This is a great big ol' photo dump of some random shiz that happened around the break that I deemed iphone photo worthy.. yet- it was never blogged, tweeted, instagrammed.. nothing, nadda. So, not one to waste a perfectly good photo, here they are in all their random glory.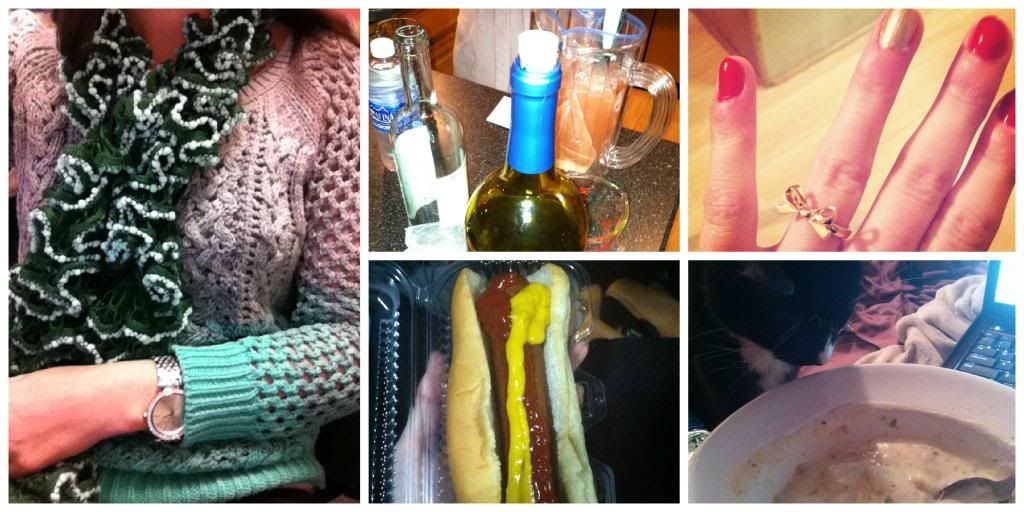 Large photo: outfit of the day at work (sweater from American Eagle, scarf made by my sweet Nana)
Small photos:
Top Left- Wine slushies with mama (watermelon margarita flavored!) Top Right- New Kate Spade ring from my BFF Grace
Bottom Left- Andrew and I had gas station hot dogs for New Years Eve dinner (hopefully this isn't what the rest of the years going to look like. Although- I absolutely love those disgusting gas station hot dogs!) Bottom Right- Boots trying to snatch some of my chowdaa (of course I let him simply so I could snatch a pic. #bloggerprobz.)
Top Right/Top Left/ Bottom Right/ Bottom Left: My BFF Alli and I while she was visiting from Atlanta over Christmas break. This was during an intense game of Cranium (in which we were miserably losing). Long hair. Dont care.
Top Left- A random outfit over break. (Blazer is Lauren Conrad, Shirt is Old Navy, Boots are Steve Madden.) Top Right- My new years resolution (time with God) I started #SheReadsTruth and I am absolutely loving it. I try to do it on my lunch break every day. Bottom Left- I miss pretty wrapped gifts! Another year until Christmas? Say it ain't so Santa! Say it ain't so! Bottom Right- Lots and lots of bird cages at Hobby Lobby (which I totally support btw!) I absolutely loooove that place. So many cute and unique things! Andrew is in BIG trouble when we move in together!
So here's how I have been spending my time.
Bored yet? Me too. Things are about to get crazzyyy up in this bishh though.
Bridal showers, weddings, and trips out of state galore!
CANT WAIT!