Seriously y'all, this is the best shrimp recipe ever. My friend Danielle's family is from New Orleans and her dad makes the most authentic and delicious bbq shrimp. Andrew and I had it one time and have had dirty dreams about it ever since. With that said, what I am about to share isn't his recipe (unfortunately!) but Andrew and I were craving it so bad the other night I googled and googled until I found a recipe that I thought seemed pretty close to how I thought it tasted, which is probably no where close but it tasted pretty amazing.
First step is wine. A good bottle of Apothic Red is key to making this happen.
Ingredients:
1 1/2- 2 lbs of shrimp (shell on! very important!)
1/2 cup Worcestershire sauce
2 tablespoons fresh lemon juice
2 teaspoons ground black pepper
2 teaspoons cracked garlic pepper
2 teaspoons Creole seasoning (I used tony!)
1 1/2 cups (3 sticks) unsalted butter (yikes.)
In a large skillet combine shrimp, Worcestershire, lemon juice, black peppers, Creole seasoning, and garlic and cook over moderately high heat until shrimp turn pink, about 1 minute on each side. Reduce heat to moderate and stir in butter, a few cubes at a time, stirring constantly and adding more only when butter is melted. Remove skillet from heat. Place shrimp in a bowl and pour sauce over top. Serve with French bread for dipping
.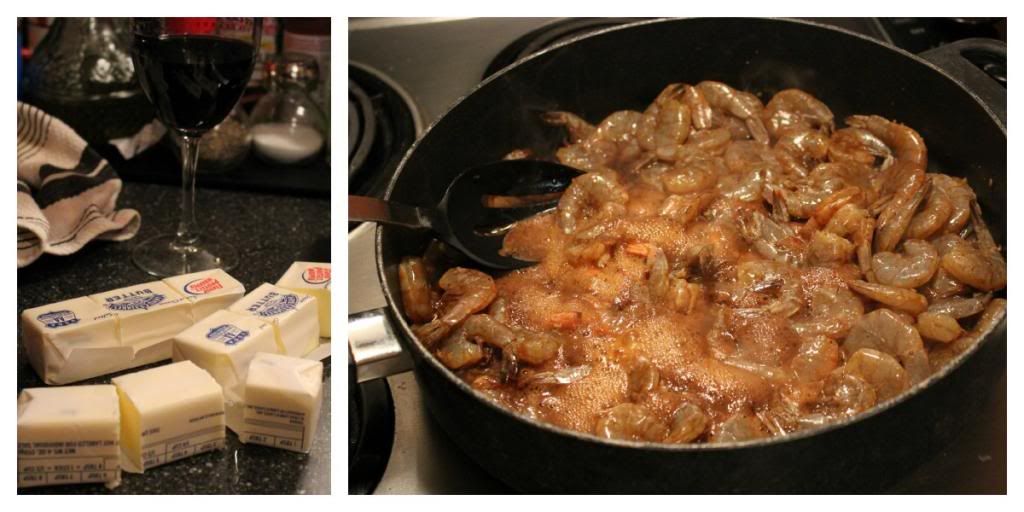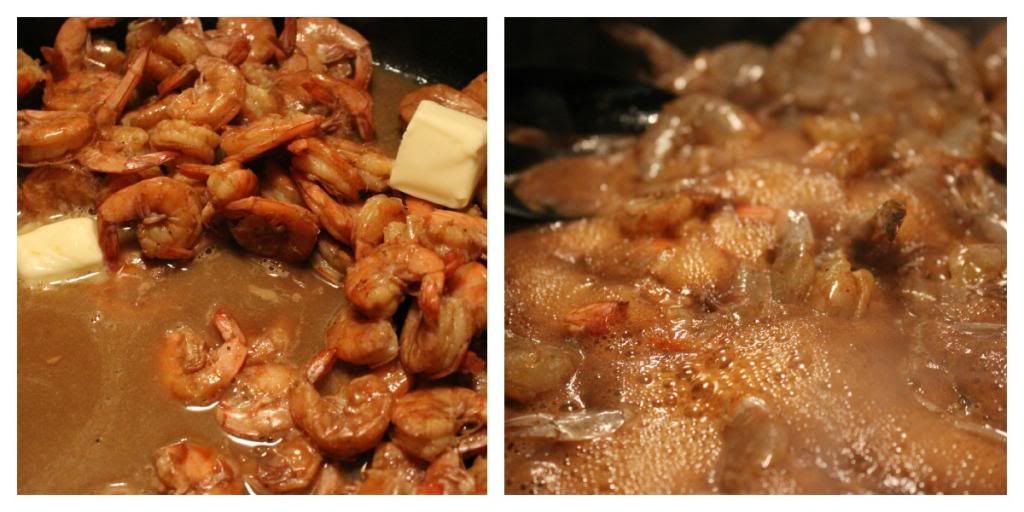 While it was absolutely delicious it didn't exactly taste like the kind that stole our heart. Andrew and I sat there and tried to figure out the little something it was missing while we ate all two pounds (fatty alert!) of the shrimp- but we couldn't figure it out. I think next time I will add more pepper and more cajun seasoning. It needed a bit more kick in my opinion. For those of you who like their food a little less spicey I would suggest keeping it as is.

Sidenote: this should be renamed 'Shrimp Crack'. It is highly addictive and nearly impossible to stop eating until it is completely gone. Cook at your own risk.