The time has come again folks.. it's the most wonderful time of the year. No, not Christmas.. or Cinco De Mayo (this girl loves margs and chips, so sue me.).. it's CHARLOTTE RESTAURANT WEEK! Which is actually two weeks and it comes twice a year I do believe. Details, schmetails.
Last year we went to Brazz
Carvery, which was delicious but it's mainly meat (duh, carvery) and I'm not the biggest fan of most meat. So, this year we decided to go to The Melting Pot. Pots of cheese and chocolate for me and an array of meat for Andrew to keep as bloody as he likes, WIN-WIN!
A little back story on restaurant week- 2 people, 3 to 4 courses, $30 a piece.
Over 100 restaurants participate and it's a good way to eat like a queen (also known as queen's feast here in Charlotte) for a night and save a very very small amount of money while in reality you're still spending more than you normally would. It's a weird concept, we all fall for it.
We went with our good friends Logan and Mauricio (a little double date action if you will) but we took the picture of them on her phone so I can't snatch it up and post it all over the interwebs! I think my friends are catching on to me.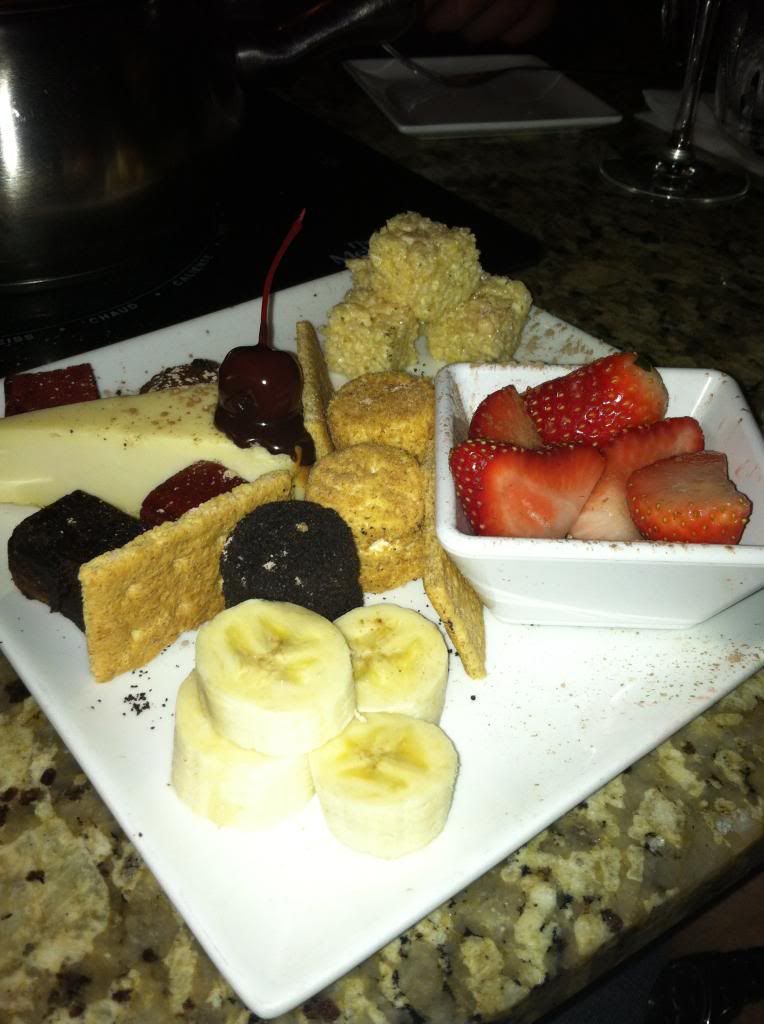 One of the coolest parts of the night was that one of my best friends through elementary, middle, and high school was our server! He went to a different college when we graduated so I really haven't seen much of him since our glory days (those are now over, right?).
Hi, Ted! He's probably one of the funniest people I have ever met in my entire life and sooo musically talented it's unreal.. and best part, he's single ladies- HOLLAAAA!
I never know how to sum one of these random posts up so..
Love, Peace, and Squirrel Grease!
oh, oh, oh.. and tomorrow's Wednesday- we have [almost] officially made it half way through the week! Yippeeeee!