I did not take a single picture this weekend. Sorry to disappoint.
Actually- that is a lie. I took one picture.. of the style # of a pair of boots I want for Christmas. I'll show you those pretty boys later. :)
So, this weekend was packed full of family fun.
With the exception of Friday night- Andrew and I had a much needed date. Dinner and Breaking Dawn! He secretly liked it.. even if he did complain about being the only guy over the age of 15 half the movie. He's a doll for coming with me. I absolutely loved it. I could blab on and on forever but I won't for those of you who haven't seen it yet! But- I will say this: make sure you stay after the credits! There is a surprise clip from Breaking Dawn Part II!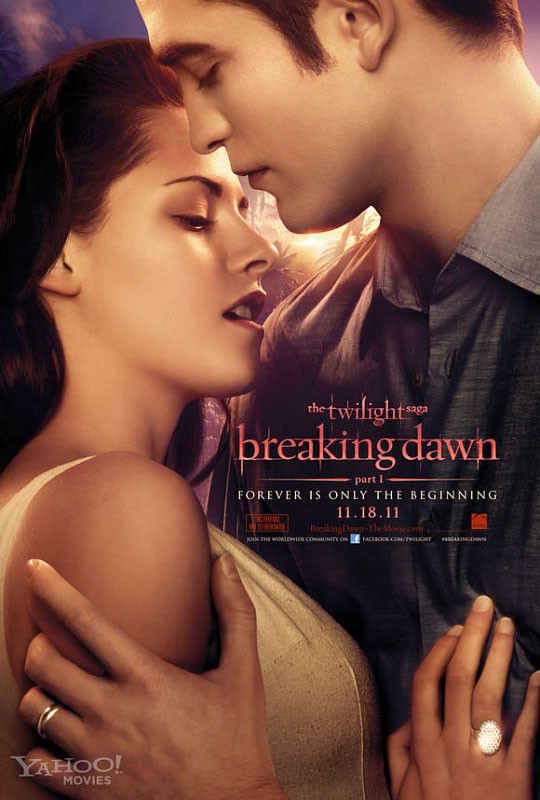 Saturday, we went to Andrews grannys for an early Thanksgiving. We are so grateful they had it early because we still have FOUR more to go to- one on Tuesday with his dad and three on Thanksgiving day. It's a whirlwind to have holidays with such big families. But, the food was delicious Saturday, and crazy enough- that was the first time I met Andrew's dads side of the family. They were all so sweet and welcoming and I had a wonderful time chatting with his little cousin, whom talked my ears off and found out more about me in 2 hours then Andrew probably has in our whole relationship!
Saturday night we got a phone call with the best news! Well, not the best (my fingers still empty!) but the second best! Andrew's mom got engaged! She has been dating a sweet man from Miami for around 5 years and he finally popped the question- with the most BEAUTIFUL ring! Seriously- it was SO pretty! So we spent Saturday night with the family eating dessert and gushing over her new bling.
Isn't it beautiful!?
Sunday I went and watched the Panthers game with my mom and her friend Anita (I've posted about her before) and a couple other ladies. We went to a place called Taco Mac and it was DELICIOUS. I could seriously live off Mexican food in general but this was to die for. We lost- again, as per the usual. Sunday night was spent with friends watching the remainder of the football games and accidentally eating deer meat which had been added to the queso without my knowledge. DISGUSTING. I gagged.. repeatably.
I am planning on putting together a Christmas list later this week- everyone has been asking what I want but I literally have no clue so I should probably get to thinking.
Any ideas for things I can put on my list? I have had so much fun looking through all of yalls Christmas lists but I just feel like I don't need anything (but money to buy gifts for the fam! Or a job- can Santa bring me a job?)
Happy Monday- If there is such a thing!