Hello lovelies! I hope you all had a wonderful weekend. I spent the weekend lounging on a boat and watching 'Red Riding Hood' and 'Beastly' with my two best girlfriends. Sorry no pictures, I promise to get my butt in gear and get my camera fixed soon!
Anyways, I was browsing online and came across some pictures of Leighton Meester [from Country Strong, Gossip Girl, Cobra Starship's "Good Girls Gone Bad"].
Leighton in Gossip Girl as Blair Waldorf
We all know she has amazing unrealistic style in Gossip Girl but have you seen any of her street style? It's pretty amazing as well.. and a lot more realistic for day to day life.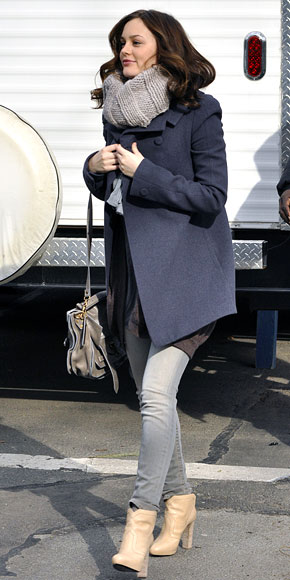 Isn't her style perfect? It's simple and classic, yet she takes chances and always looks put together and gorgeous.

On another note.. I think the family that lives above my apartment have purchased sumo wrestling suits and are practicing their skills at all hours of the night. Or- at least that's what it sounds like.
Dear People upstairs,
Please shut up. You are really cutting into my beauty sleep.
I hope everyone has a fun and relaxing Sunday. I am going to start packing up my apartment today. I'm moving back to Charlotte next weekend to begin my big girl job hunting. Oh joy.