It's summer time! I absolutely love love love summer. I love the cute clothes, going to the beach, lounging by the pool, having cookouts, but most of all.. I *love* that summer is when you can buy delicious ripe watermelons at the produce stands [support your local farmers, people!].
I normally just cut up the watermelon and eat it plain, usually to the point where I get a terrible belly ache [I have an obsession]. But today I was browsing through a Women's Day magazine at work and found a recipe for watermelon margaritas. This inspired me to search for other recipes that include watermelon as the main ingredient. Believe it or not there is actually a
http://www.watermelon.org/
and here are some recipes from there that I thought looked too yummy not to share:
Watermelon Rasberry Lemonade
photo & recipe via
Ingredients
(makes 4 servings)
6 cups watermelon cubes (seeds removed)
1/4 cup raspberries
1 cup water
1/3 cup sugar
1/2 cup lemon juice
Instructions
Place watermelon, raspberries and water in container of electric blender, cover and blend until smooth. Strain through fine mesh strainer into pitcher. Stir in sugar and lemon juice until sugar dissolves. Refrigerate until chilled, about 1 hour.
Watermelon Cookies

Ingredients (serves 6)
12 pancakes blueberry pancakes (3 inch round), cooled to room temperature
1/2 cup white frosting
6 slices 2/3 inch thick and 3 inches round, seedless watermelon slices, drained to remove excess moisture
Instructions
Evenly frost the bottoms of each pancake with the white frosting. Arrange six of the pancakes, frosting side up on a serving platter. Place a slice of watermelon on each of the frosted pancakes on the platter. Top each with the remaining pancakes, frosting side down. Serve immediately or cover and refrigerate until ready to serve.

Watermelon Walnut Bagel Spread
Ingredients (makes about 1 1/2 cups)
6 ounces whipped cream cheese
2 ounces walnut pieces, chopped
1/2 teaspoon ground cinnamon
1/2 cup minced seedless watermelon
Instructions
Mix together the cream cheese, walnuts and cinnamon. Just before using, mix in the watermelon. Spread liberally on toasted bagels.

Kung Pao Watermelon Shrimp
Ingredients (serves 6)
2 tablespoons peanut oil
6 cloves garlic, sliced
2 pounds large shrimp, peeled and cleaned
1 cup dry roasted and salted peanuts
1 cup prepared Kung Pao sauce
2 cups chopped watermelon
Instructions
Heat the oil in a large heavy sauté pan or wok over high heat . Sauté the garlic for 30 seconds and then add the shrimp. Stir-fry until the shrimp begin to cook and plump up. Add the peanuts and sauté another 30 seconds. Reduce heat to low and add the sauce. Simmer just until shrimp are cooked. Remove from heat. Stir in watermelon and serve immediately.
Flash Grilled Watermelon Cheddar Burgers
photo & recipe via
Ingredients
(serves 4)
4 patties hamburger patties-ready to grill
4 slices white cheddar cheese
4 slices watermelon about the same size as the burgers, seeded
1 tablespoon ground pepper
4 buns toasted
Instructions
Grill the hamburgers almost to desired doneness but 30 seconds before they are done, place a cheese slice atop each burger. Place the watermelon slices on the grill and dust with the pepper to taste. Assemble the burgers on the buns with a slice of warmed watermelon on each on top of the cheese.
There are many more watermelon recipes
here.
If you make these recipes for a party, here are some ideas for table center pieces:
Disclaimer: I could never make half of these, but they are beautiful to look at!
photos via google images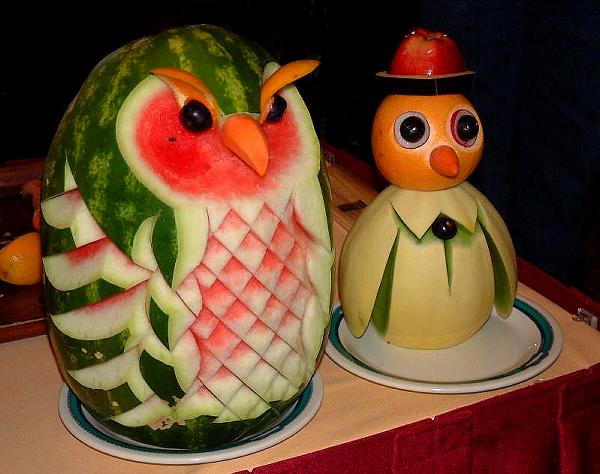 [Creepy- I know.]
On that last note, everyone have a good week. I am off to Savannah in the morning with my sweet boyfriend! :)